{{OCCUPANCY SUB TITLE}}
{{OCCUPANCY PERCENTAGE}}%

St George Apartments | Vintage Utah Tech Student Housing
The Best UTU Student Housing Option that St. George has to Offer
Here at Vintage at Canyonlands, our goal is to offer students the same level of comfort and peace of mind that they would find at home. We want our residents to make friends and enjoy their UTU experience with us so we made sure our Utah Tech housing offered top-notch amenities. Book a tour today to see the outstanding experience that Vintage at Canyonlands has to offer.
Apply Now
A Short Walk from UTU Campus
Located just across the street from Utah Tech University, Vintage at Canyonlands is the optimal location for all students, regardless of your transportation constraints. Whether you're commuting by car, by scooter, on foot, or by magic carpet, campus is close enough for you to be on time for class no matter how late you stayed up "studying". Apply today to secure your spot at the most convenient apartments in St George!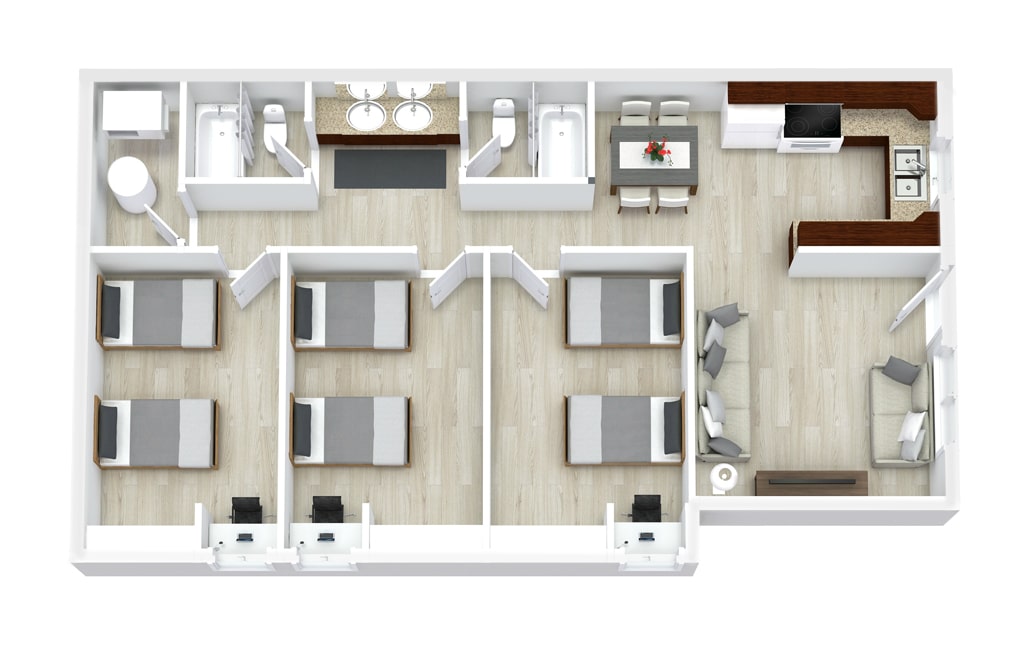 Floor Plans & Pricing | Utah Tech Housing
We know that finding a quality apartment in the Utah Tech housing scene can be stressful. That's why we've provided the perfect solution for all of your housing woes. All of our St George Apartments have new flooring, new paint, and are fully furnished! We provide a dining table, couches, beds with raised frames, dressers, extra storage, and a 55'' flat screen TV. Our kitchens are furnished with a fridge, microwave, oven, and dishwasher. We understand roommates can make or break a college experience so our goal is to help you find your new best friends! Our application will ask about your interests and roommate preference which we'll go through to ensure we're finding you the best roommates you could have. Sign your lease today with Vintage at Canyonlands for the best off-campus UTU housing experience. We make the application process easy, and if you have any questions, our amazing & friendly staff is here to help you!
View Floor Plans
At Vintage at Canyonlands, we pride ourselves in being one of the most comfortable St George apartments near UTU by offering top-notch amenities. We know that being a college student can be stressful, so come relax and unwind in our steaming hot tub. Cool off in our resort-style swimming pool. Tired of eating pre-packaged noodles? Grill some steak on our outdoor gas BBQ grill. Snuggle up and roast some marshmallows at our beautiful fire pit. Get your blood pumping in our newly remodeled fitness center. When you need to wash your clothes, we have the newest on-site high tech laundry facility. It's likely you'll need to print multiple papers for your classes at Utah Tech University so we offer residents free printing with our laser printer. We have the highest-speed fiber internet in town so you never have to worry about a bad connection. We know that parking is a big hassle for students living in college towns, so we built ample parking at just $15/month. In addition, our 24-hour maintenance service is here to address your concerns. Check out our amenities for yourself by scheduling a tour or checking out our Gallery. You won't find a better Utah Tech housing experience anywhere else!
View Amenities
Sign Up
with Vintage today!
Limitless
opportunities await!
Come by for a tour and see what makes us exceptional.